Down Alternative Pillow Insert
Average rating:

Read all reviews
Synthetic Down Alternative Pillow Form Inserts, aka faux down or micro denier
SIZING - Use the yellow sizing chart image below to help select the best size insert for your sham
NO ALLERGENS | 100% Polyester fiber filling | Get the look and feel of a pure down pillow that is hypoallergenic | Cruelty free | No feathers to poke you
This pillow has much more weight than a traditional polyester pillow and is more similar to the weight of a genuine down pillow.
Please view the weight chart at the bottom of the page, Down Alternative inserts typically weigh about three times as much as a tradicional pillow.
Ultimate in softness | Give your home's shams a touch of class that will last for years
Use this pillow insert anywhere in your home that may need a pillow... couch, love seat, beds, day beds, reading nook.
Shell is made of a polyester - cotton blended cloth | Machine washable cold | Machine dry low | Add tennis ball to drying cycle for extra fluffiness| Odorless| Fluff as needed | Lint and Dust Free
Proudly Made in Palmetto, GA USA from American Fibers and American made shell - Support American Manufacturing!
***If you can't decide which type of pillow insert to use in your shams, use this one. The Pillowflex Synthetic Down Insert is simply the best form you can get for your pillow shams***
Case Pricing available HERE
Down Alternative Pillow Insert
Don't see the size you need? We can make any size please contact us at 770-463-2346, via chat or email at info@pillowflex.com
-------------------------------------------
Finally! Quality craft pillows that are worthy of being stuffed into your beautiful pillow sham covers
Impress your customers, this pillow is made to look great in your shams!
Ultra Soft - This pillow is made from a faux down polyester fiber (aka micro denier / down alternative) that has the same feel, weight and characteristics of traditional down, but is hypoallergenic
No Allergens - Pillow is hypoallergenic, odorless, lint and dust free, free of flame retardant chemicals
Karate Chop - This pillow is ultra soft and has the traditional karate chop look that comes with natural down.
Fibers are ultra soft for high end pillows
No lumps - We use a slick polyester fiber to keep the pillow's filler smooth unlike cheap pillows that use dry fibers that will quickly lump up and need replacing
Covering - American made pillow shell from a high thread count poly cotton blended fabric, that is durable and machine washable, machine dry (cover is not removable)
Made in USA from American Fibers and Shell
Where to use
Use as an insert in decorative shams
Couch shams
Bedroom shams
Crafting
For sleeping
Anywhere you need a pillow!
Intended for indoor use
Care
Machine wash cold
Tumble dry on low
Fluff as needed
Sizing Start by measuring your shams, pull tight along the outer seam and measure corner to corner, this should be done for all sham even if size is marked Please note your insert must be larger than your sham to correctly fill the corners of the sham and give them a nice even look. Small shams 10" to 17" typically need inserts 1" larger. Larger shams 18"+ typically need inserts 2" larger Please use yellow sizing chart in the images at the top left of this page for detailed sizing info
Size Selection Chart

Sham Size

Insert Size

9x9 / 10x10
10x10
10x10
11x11
12x12
13x13
12x16
12x16
12x18
12x18
12x24
12x24
13x13
14x14
13x19
13x19
14x14
15x15
14x36
14x36
15x15
16x16
16x16
17x17
17x17
18x18
18x18
20x20
20x20
22x22
22x22
24x24
24x24
26x26
25x25
27x27
26x26
28x28
28x28
30x30
Selecting the correct size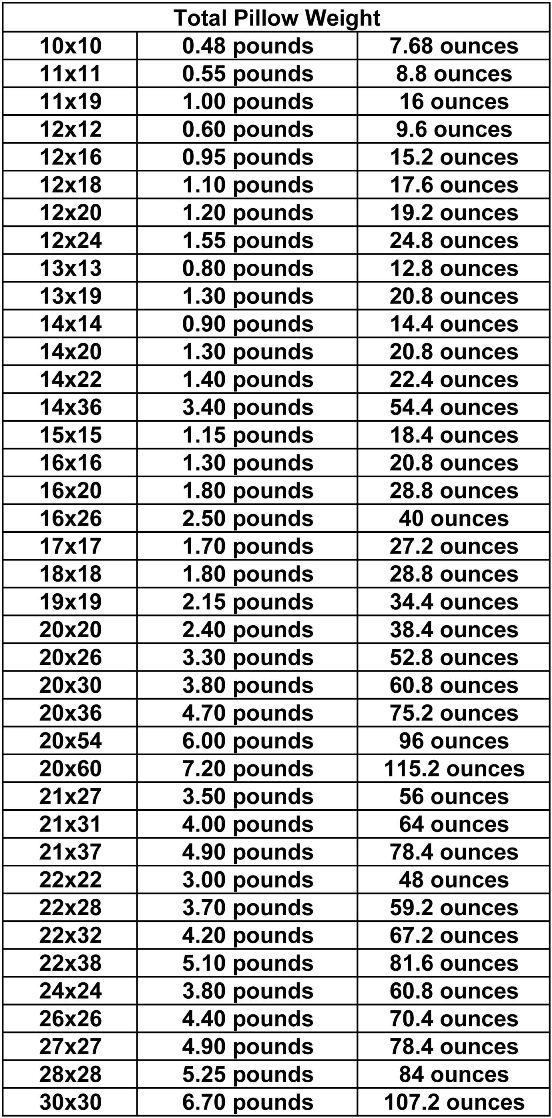 Synthetic down pillows weigh about 2.5 times the weight of a traditional pillow.
Fiber is the most expensive part of a pillow, if you see a competitor selling a synthetic down pillow for slightly more than a traditional pillow I would be cautious of the type of filler they are using and if it really feels like down.